Living Libations // Everybody Loves the Sunshine Zinc Beach Balm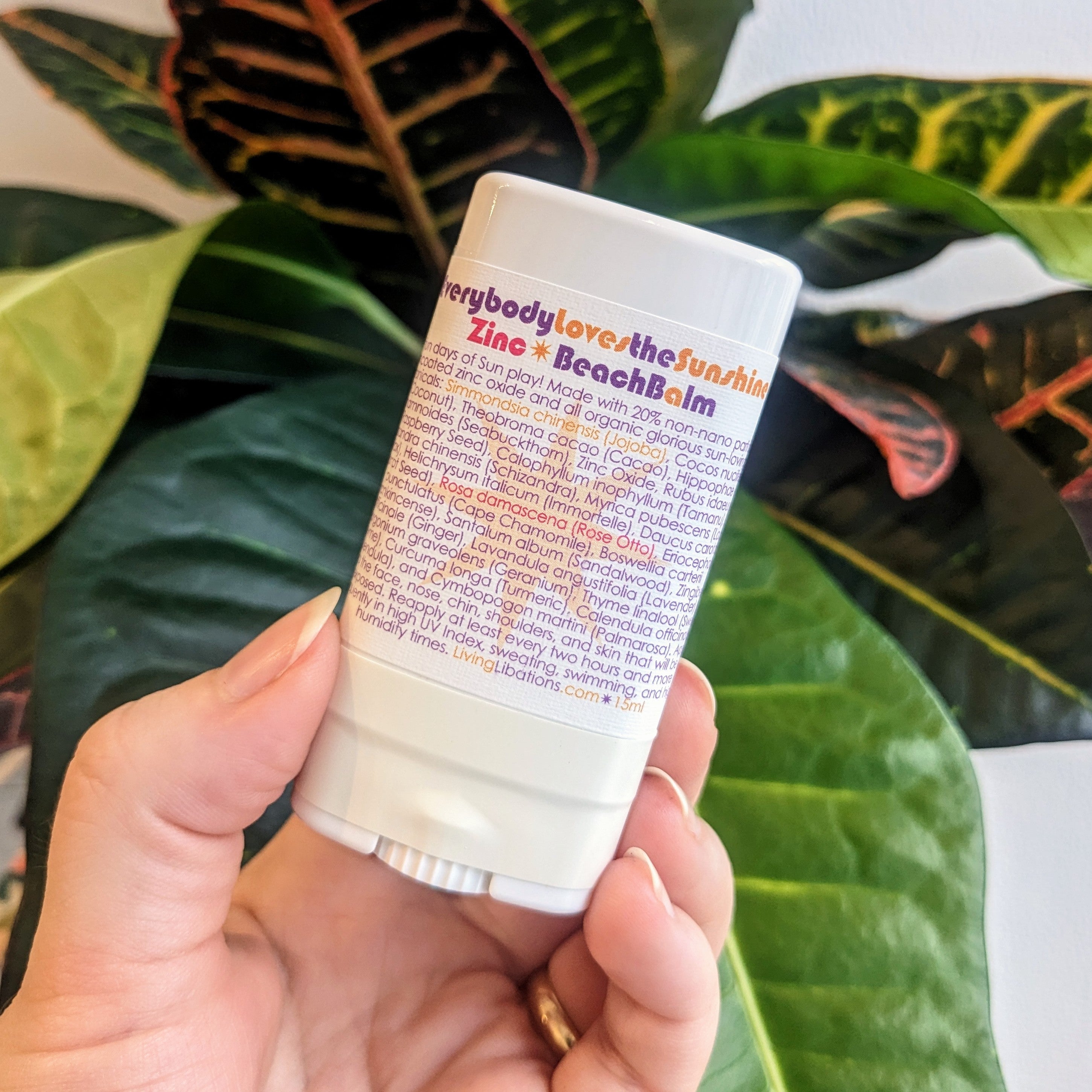 This item is stocked at our 87 Roncesvalles Avenue and 1360A Queen Street East locations.
Living Libation's Everybody Loves the Sunshine Zinc Beach Balm frees you to spend long, lazy days lounging in the summer sun. This plant-based balm is perfect for those scorching, heat-seeking days where a hat and cotton clothing are too cumbersome!
This handcrafted, portable sun-stick is formulated with sun-harmonizing botanicals that come to life under our star's nourishing rays. Pure sunlight ignites the beneficial properties in these excellent elixirs that also smell like summer fun. High concentrations of sun-friendly flavonoids and carotenoids lend rich colors to some of these robust essences. This melody of tropical coconut, sweet flowers, warm spices, and verdant flora is a sensual invitation to long, languid summer days. Into these essences we have swirled balmy beeswax for its porous powers, rich cacao butter to soothe and moisturize thirsty skin, and non-nanoparticle, uncoated zinc oxide to shield skin on sunny days.
Fear not the sun! With Everybody Loves the Sunshine Zinc Beach Balm you are free to hit the beach, the trail, water play or the poolside lounge chair all day.
Frequently Asked Questions: Zinc Oxide
What is zinc oxide?
Zinc oxide (ZnO) is an awesome option as a sunblock. It is a white, inorganic compound created from metallic zinc. We use non-nanoparticle, uncoated, pharmaceutical-grade zinc oxide in Everybody Loves the Sunshine Zinc Beach Balm as it is the purest form of zinc available.
Unlike nano-particle minerals and chemical sun blocks, zinc doesn't interfere with the health or respiration of the skin. The molecular size of zinc particles is too large to be absorbed by the skin. Instead, it sits on top and absorbs sun rays, protecting the skin.
Does the zinc oxide give skin a white sheen?
Yes. We do add botanical pigments, yet the zinc in Everybody Loves the Sunshine Zinc Beach Balm does give skin from the palest to the darkest tones a white sheen, and as of right now this is unavoidable. Yet, if a person is seeking a skin-wise and natural sun block, zinc oxide is still the very best option.
What about people of color?
People of color have used zinc paste for skin protection for hundreds of years. There are beautiful photos of women with darker skin in South East Asia with their faces veiled in white from the sheen of a zinc-rich paste called burak to keep their skin cool.
Zinc oxide will create a white or ashy cast on darker skin tones.
Is there a way to minimize the white sheen?
We have clients with the full range of skin tones who do not mind the white protection of zinc.
Yet, if you are not fond of the sheen or find it tricky to work with, you can minimize the sheen by putting some of the product in the palm of your hand, rub your hands together, and then rub it on the face and body.
If you still find this unsuitable, you could also add some tint with a bit of makeup pigment that matches your skin tone.


Ingredients:
Jojoba - Simmondsia chinensis, Coconut - Cocos nucifera, Cacao Butter - Theobroma cacao, Seabuckthorn - Hippophae rhamnoides, Zinc Oxide, Raspberry Seed - Rubus idaeus, Tamanu - Calophyllum inophyllum, Schizandra Berry - Schisandra chinensis, Schizandra Berry, Laurel Wax - Myrica pubescens, Immortelle - Helichrysum italicum, Carrot Seed - Daucus carota, Rose Otto - Rosa damascena, Cape Chamomile - Eriocephalus punctulatus, Frankincense - Boswellia carterii, Sandalwood - Santalum album, Ginger - Zingiber officinale, Lavender - Lavandula angustifolia, Geranium - Pelargonium graveolens, Turmeric - Curcuma longa, Calendula - Calendula officinalis, Palmarosa - Cymbopogon martini