Living Libations // Best Skin Ever Rose Cleanser/Moisturizer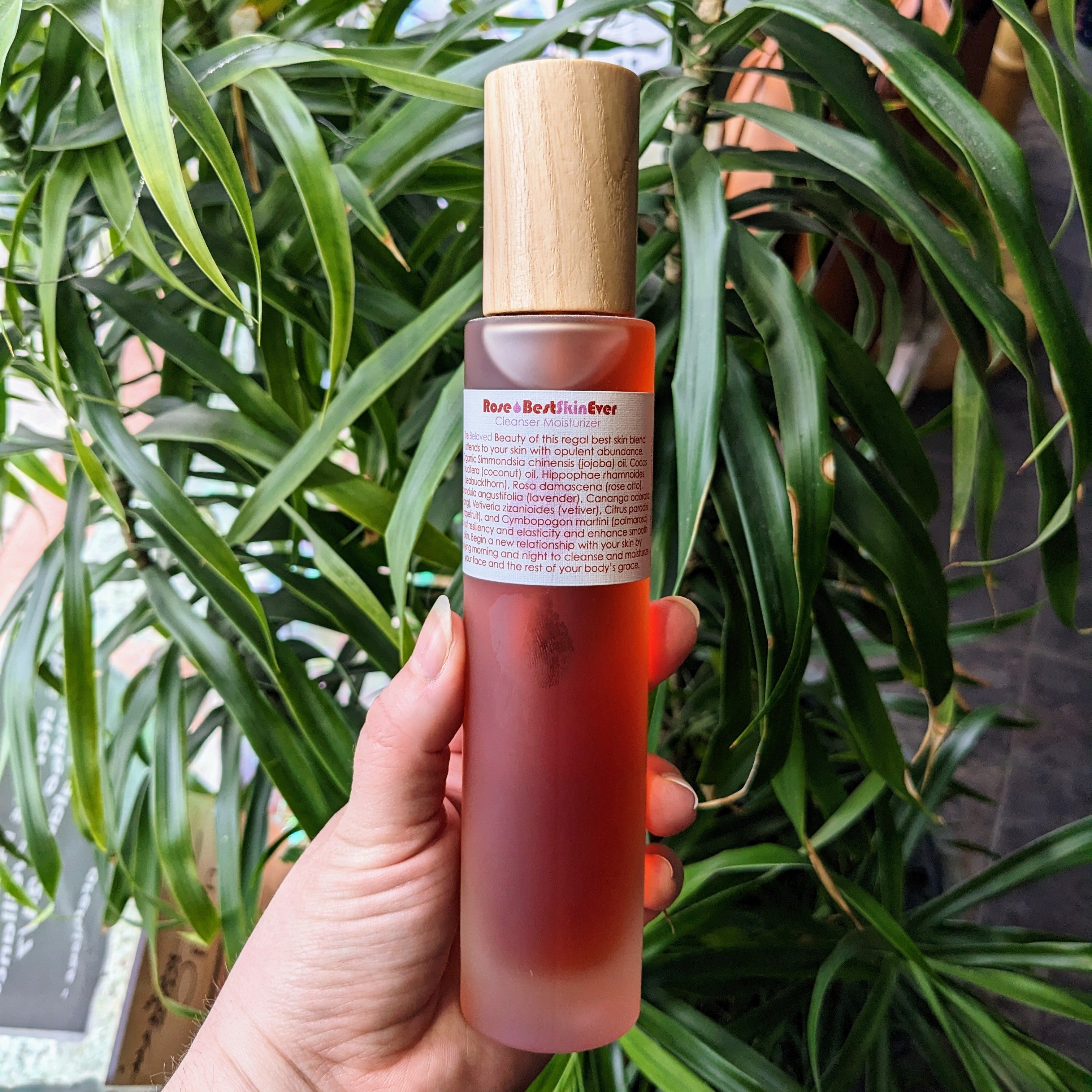 Resplendent Rose Best Skin Ever infuses every lipid layer with the petaled prose of replenishing Rose Otto and a bevy of botanicals that regale rejuvenation. This luxurious Libation may be used as a clarifying cleanser and gentle exfoliator as well as an opulent face and body moisturizer. Anoint your face with the grace of this dewy libation anew in replenishing Rose!
Use Rose Best Skin Ever restore, adore, and soothe your skin that has suffered from dryness, itchiness, or redness. The resilience of Rose Otto essential oil delivers targeted nourishment where tired tissues need it most, helping to hydrate and improve the look of sagging skin. It takes over 60 roses to create a single drop of radiant rose otto. Its preciousness is apparent from the gentle-yet-powerful impact of rose on all skin types.
In this Libation, Rose Otto is supported in her quest to soothe skin with the healing plant-power of nature's purest botanicals. With splendid Seabuckthorn, Holy Jojoba, quenching coconut, luscious Lavender, lovely Ylang, invigorating Vetiver, gorgeously-toning Grapefruit and pore empowering Palmarosa, Rose Best Skin Ever reveals perfectly balanced, even toned skin with improved elasticity, soothed spots, and poignant plumpness.
Rose Best Skin Ever is an elegant elixir that makes skin sing!
****

Usage: 
All-in-one to cleanse, exfoliate, and moisturize. Removes makeup. Perfect to cleanse from nose to toes. Beautiful for after sun rehydration. Combine with other Serums, Elixirs, and Essential Oils to create your own unique blend. Gentle enough for children. Perfect for all skin types, including as a cleanser for acneic skin.
How to Use Our Best Skin Evers
When you start a fresh bottle, prime the pump with a firm press or two to get the fluid flowing.
Our Best Skin Evers renew the face and bedew the body and with grace. These all-in-one botanical blends cleanse, moisturize, and nourish the skin. Best Skin Evers are crafted to bring into balance all skin types.
Washing the face with pure pressed plant oils is an ancient Ayurvedic and gracious method to cleanse and gently exfoliate the skin. Nadine designed the Best Skin Evers to be your finest bathing and beauty aide. These oils plus water and a cloth are the simple essentials to cleanse, exfoliate, moisten and bedew.
Directions: Washing/Cleansing your Face with Best Skin Ever
Wet a small portion of a cloth with water.
Apply one to two squirts of any of the Best Skin Evers (Seabuckthorn, Sandalwood, Rose, Frankincense, or Neroli), to the dampened portion of the face cloth.
Gently massage the face, neck and back of the neck with the moistened cloth. Wash gently or wash vigorously for a deeper exfoliating effect. Rinsing the face is optional.
You can also add a drop or two of any of the Serums to a dab of any of the Crèmes. They all blend beautifully together.
Directions: Using Best Skin Ever on your Body after a Bath or Shower
Leave the body wet after a bath or shower.
Wet a washcloth with water. Squeeze it out.
Apply a few squirts onto the wet washcloth of any of the Best Skin Evers.
Massage the entire body with the cloth, head to toe. Rub more vigorously to exfoliate.
Indredients: Jojoba - Simmondsia chinensis, Virgin Coconut - Cocos nucifera, Rose Otto - Rosa damascena, Seabuckthorn - Hippophae rhamnoides, Lavender - Lavandula angustifolia, Ylang - Cananga odorata, Vetiver - Vetivera zizanioides, Grapefruit - Citrus paradisi,Palmarosa - Cymbopogon martini, Stone Root - Collinsonia Canadensis L.